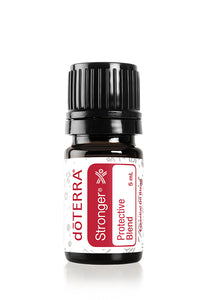 doTERRA Kids Stronger Blend
Get Stronger Protective Blend oil as an undiluted 5 mL— a great way to boost the immune system of kids going back to school! 
Description
Stronger Protective Blend evokes feelings of wellness and vitality. Formulated specifically for diffusion, the expertly crafted combination of Cedarwood, Litsea, Frankincense, and Rose provides a positive sense of resiliency when needed most. The brightness of Cedarwood and sharp Litsea help create a clean, revitalizing aroma while being grounded by Frankincense and the green, floral notes of Rose. This bright, lemony blend can be enjoyed by all members of the family while diffused throughout the home to refresh and rejuvenate.
Primary Benefits
Calming and revitalizing aroma
Refreshing to the environment
Helps promote a healthy skin appearance
How to Use
Diffuse doTERRA Stronger Protective Blend to help promote feelings of wellness and vitality.
Use this undiluted version of dōTERRA Stronger® Protective Blend for your next DIY
Mix with doTERRA Hand and Body lotion and use as part of massage to enjoy the revitalizing aroma
Try adding a few drops in the shower and breathe deeply for bright uplifting aroma
Add 1-2 drops to your wrists, pulse points and back of neck throughout the day
Apply to bottoms of feet at the beginning and end of each day for a lively scent
doTERRA Stronger Protective Blend may be soothing to the skin and a great blend to have on hand for extensive activities.
Aromatic Description
Bright, sharp lemony, lightly herbal
Ingredients
Cedarwood, Litsea, Frankincense, and Rose essential oils
Directions for Use
Diffusion: Use 3-4 drops in the diffuser of choice.
Topical use: Apply one to two drops to desired area. Dilute with a carrier oil to minimize any skin sensitivity.
* These statements have not been evaluated by the Food and Drug Administration. This product is not intended to diagnose, treat, cure, or prevent any disease.
---
We Also Recommend