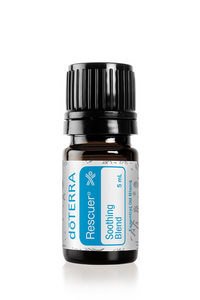 doTERRA Kids Rescuer Blend
A specialized blend of Copaiba, Lavender, Spearmint, and Zanthoxylum, dōTERRA Rescuer® Soothing Blend was crafted for kids and adults alike!
Description
After a busy day of activity, apply Rescuer Soothing Blend for a relaxing sensation and to reduce feelings of tension for growing, tired legs. Copaiba, Lavender, Spearmint, and Zanthoxylum are expertly combined with Fractionated Coconut Oil to soothe and promote resilience while being gentle enough for sensitive skin. Roll Rescuer onto your legs, hands, or shoulders after exercising or a long day of physical activity to provide feelings of comfort and relief. Zanthoxylum, an essential oil unique to this dōTERRA blend, is known for its calming and soothing benefits. Rescuer has a fresh, yet calming aroma that provides soothing support while comforting the emotions.
Primary Benefits
Creates a cooling and revitalizing experience aromatically or topically
May feel cooling and soothing to the skin when applied topically
How to Use
Use this undiluted version of dōTERRA Rescuer® Soothing Blend for your next DIY
Mix with doTERRA Hand and Body lotion or carrier oil, and rub onto tired legs before bedtime or after strenuous activity
Massage into shoulders, neck, and back for a comforting and soothing experience
Apply to temples and back of the neck throughout the day
Diffuse in your doTERRA diffuser of choice for a soothing aroma
Try adding a few drops in the shower for a naturally fresh and comforting aroma
Massage into the bottoms of your feet before or after long walks or runs
Aromatic Description
Woody, minty, floral
Ingredients
Copaiba, Lavender, Spearmint, and Zanthoxylum
Directions for Use
Aromatic: Add 3-8 drops in your diffuser
Topical: Dilute with carrier oil to apply to skin
* These statements have not been evaluated by the Food and Drug Administration. This product is not intended to diagnose, treat, cure, or prevent any disease.
---
We Also Recommend