What Are Essential Oils?
A variety of plants cover the Earth in different shapes, sizes, colors, and scents. Many of these plants contain compounds that typically can't be seen with the naked eye—they hide within the roots, flowers, seeds, bark, or other areas of the plant. These compounds are known as essential oils. They are highly concentrated, making them extremely potent. Also referred to as volatile aromatic compounds, essential oils give a plant its aroma, protect it from harsh environmental conditions and insects, and even play a part in plant pollination.
The Science Behind Essential Oils
When you hear the word "volatile," you may think it holds a negative connotation; however, in the case of essential oils, volatility refers to a substance's ability to change its state quickly. The chemical makeup of volatile aromatic compounds in essential oils allow them to disperse quickly through the air. This is why you can instantly smell the potent aroma of an essential oil from the moment you open the bottle—even from a distance.
How do Essential Oils Work?
As volatile aromatic compounds move quickly through the air, you will experience the scent when the compounds interact directly with sensors in the brain. With over 3,000 types of volatile aromatic compounds discovered so far, it is important to note that these compounds greatly determine the benefit, aroma, and nature of each essential oil. Because of unique chemical makeup, each essential oil will vary from species to species, and even from plant to plant. The delicate ratio of aromatic constituents found in any given essential oil are what make it unique and give it specific benefits. 
Essential Oil Use Throughout History
While some view essential oils as a new trend, the use of plant extracts and plant-based products is deeply rooted in traditions of the past. Ancient civilizations used plants for things like aromatherapy, personal care, health care practices, religious ceremonies, beauty treatments, and food preparation.
How Were Essential Oils Used Anciently?
Essential oil use is not a fad, but rather a long-time tradition started centuries ago in civilizations all over the world.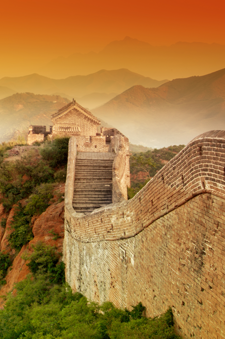 Egypt:

 

Egyptians used plant-based products in beauty treatments, food preparations, burial rituals, and religious ceremonies. 
Greece:

 

In ancient Greece, men like Homer and Hippocrates explored the aromatic uses of plants, building on discoveries made by early Egyptians. 
Rome:

 

Ancient Romans often used plant extracts for massage, perfume, and scented baths. 
Iran:

 

In medieval times, people in the region of Iran often used and traded spices or resins for perfumery and maintaining health. 
India:

 

Ayurvedic medicine, a holistic healing system native to India, has developed over the span of 5,000 years and includes the use of aromatic and plant compounds. 
China:

 

For centuries, traditional Chinese practices have included the use of plant materials to promote wellness. 
France:

 

Rene Gattefosse, a French chemist, is credited as the first to coin the phrase "aromatherapy" as he studied and researched essential oils thoroughly in the 19th century.
How are Essential Oils Made?
It is important to note that not all essential oils are created equal. The purity of an oil can change depending on geographic location, distillation methods, weather, and other factors. Additionally, no matter how well a plant is selected, cared for, and harvested, the quality of an essential oil can either be preserved or destroyed during the distillation process. Because of the attention to detail and precision necessary in distillation, it becomes less of a process and more of an art form. Distillers must be precise and pay careful attention to harvesting methods, temperatures, time of distillation, the amount of pressure used, etc.
How Does a Plant Become an Essential Oil?
The exact process for producing an essential oil will vary depending on what type of plant the oil comes from. However, the basic idea is that plants go through a specific distillation process using special machinery in order to separate the essential oil from its plant parts. The essential oil hides within different parts of the plant, often in microscopic amounts. During the distillation process, the machinery will separate the essential oil from its original plant part. For example, when citrus oils are produced, machinery is used to separate the essential oil from the rind of the fruit.

Using Essential Oils Today
While essential oils and plant extracts have been used for centuries, essential oils still hold relevant applications today. With advancing technology, improved quality, potency, and safety, essential oils are now more accessible and easy to use in everyday life. Although essential oils were often used as a part of cultural practices and traditions of the past, we now have increasing scientific evidence and research to show the effectiveness and safe nature of essential oils in our day and age. 
Essential Oils for Health Benefits
In ancient times, people used essential oils and plant parts to improve their health and well-being. Because essential oils can be used to soothe occasional skin irritations, promote healthy digestion, support good oral health, create feelings of clear airways*, and more, they have long been a popular choice for those who want to maintain good health.
Essential oils offer a variety of benefits, and each individual experiences essential oil use in their own way. Fortunately, the diversity of essential oils makes them a helpful way to maintain health, even for those who have specific health concerns, seek diverse health benefits, or experience sensitivity. Using essential oils for health benefits has become popular because it allows the user to tailor the experience to their specific wants and needs, rather than settling for a generic solution.
The Emotional Benefits of Essential Oils
With unique chemical structures, each essential oil holds a variety of benefits for the user. Some essential oils hold soothing, toning, and grounding properties, while others are known as energizing, uplifting, warming, or renewing. As our bodies go through an array of emotions and physical states throughout a single day, essential oils can help us manage and maintain well-being. 
The chemical design of an essential oil gives it specific benefits. Some essential oils are helpful for cleansing or purifying, while others provide a soothing sensation to the skin. The aroma of essential oils can also create a chemical reaction in the brain, eliciting emotions and internal responses.
Our sense of smell can produce powerful, mental, physiologic, and emotional responses.
How to Use Essential Oils
Now that you know what an essential oil is and where essential oils come from, it is time to learn how to use them. You don't need to be an expert to enjoy the wide array of benefits that essential oils hold. All you need is a basic understanding of how to safely and simply use essential oils during your daily routine.
Learning How to Use Essential Oils is Easier Than You Think
You don't need a degree in chemistry or extensive training to know how to use essential oils effectively. With a basic understanding of safety precautions and application methods, it is easy to incorporate the use of essential oils into your everyday life.
As the research surrounding essential oils continues to develop, there is a greater understanding of how to apply oils for the best results. Following label instructions, consulting with a healthcare professional, and educating yourself about how essential oils work will allow you to enjoy the variety of benefits they provide.
As you learn how to use essential oils, you will likely use one of the following application methods: aromatic, topical, or internal. All of these methods are safe when used appropriately. One or multiple application methods can be used for a wide range of emotional and physical benefits.
Keep reading to learn more about the three most popular essential oil application methods: aromatic, topical, and internal.
Using essential oils aromatically
The sense of smell is a tool that can elicit powerful physiologic, mental, and emotional responses. Essential oils are quickly absorbed by the smell receptors, which have a direct link to the limbic system by way of the olfactory nerve. The limbic system is part of the brain that supports a variety of functions including smell, emotions, behavior, and memory. For this reason, essential oils have an especially powerful effect via aromatic application.

Some essential oils induce uplifting or invigorating effects, while others are more calming. Diffusion is one of the simplest methods for using essential oils aromatically. Diffusers that use cold air or water are ideal. However, using essential oils aromatically does not require any special diffusing devices.
You can achieve the same health benefits by simply placing a few drops of essential oil in the palm of your hand that is then cupped around the nose as you breathe deeply.
Additional aromatic uses For Essential Oils Include:

Apply oil to a cotton ball and place in the air vents of your vehicle
Mix oils in a spray bottle with water and mist over furniture, carpet, or linens
Add oil to a batch of laundry or to dryer sheets
Use in household surface cleaners
Using essential oils topically
Topical application is a very effective method for applying essential oils. Because essential oils have low molecular weights and are lipid soluble, they easily penetrate the skin. Once absorbed, they stay in the applied area for a localized benefit.
Although essential oils are readily absorbed, there are many ways to increase absorption. Using a light massage will increase the blood flow to the area of application, in turn improving distribution throughout the body. Use of a carrier oil can also increase absorption, especially in skin that is dry or flaky as it helps moisturize the skin and slow evaporation of the oil.
To decrease the likelihood of developing a skin sensitivity, especially on young or sensitive skin, it is advisable to use a carrier oil (such as Fractionated Coconut Oil) to dilute more potent oils and when trying an oil for the first time. The recommend dilution ratio is typically one drop of essential oil to three drops of carrier oil.
It's always advisable to use several small doses throughout the day rather than a single large dose. Start with the lowest possible dose (1–2 drops). A topical dose can be repeated every 4–6 hours as needed. Because every individual is unique, the dose will vary for each individual based on size, age, and overall health status.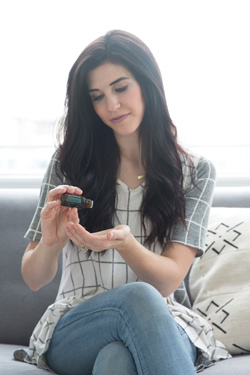 Beneficial Areas You Can Apply Essential Oils
Neck
Forehead and temples
Chest and abdomen
Arms, legs, bottom of feet
Other Effective Methods of Topical Application
Add a few drops of oil to a warm bath
Make a hot or cold compress by soaking a towel or cloth in water, adding essential oils, and then applying to the desired area
Add oil to a lotion or moisturizer and then apply to skin
Sensitive Areas to be Avoided:
Some facial areas, such as the skin around the eyes
Eyes and inner ears
Broken, damaged, or otherwise injured skin
Using essential oils internally
Certain essential oils have a rich culinary history and can be used as dietary supplements supporting a variety of healthy conditions. When you sprinkle cinnamon on your oatmeal, sip a mug of peppermint tea, or add fresh basil leaves to your spaghetti, you are actually consuming some volatile aromatic essential oil compounds.
Essential oil contributes many health benefits as well as flavoring and aroma properties to foods. When in their concentrated form, essential oils can be used as dietary supplements for more targeted and potent health benefits. Internal use is a very safe and effective method of application because of the sophisticated physiologic processes of our bodies.
When ingested, essential oils directly enter the blood stream via the gastrointestinal tract, where they are transported throughout the rest of the body. Essential oils are lipid soluble so they are readily transported to all organs of the body, including the brain. Then, like all things we consume, essential oils are metabolized by the liver and other organs and are then excreted.
The composition of essential oils is highly complex. Each constituent possesses a unique set of biochemical properties that react with cells and organs in different ways. Although these mechanisms of action are not completely understood, the positive end results have been demonstrated. However, the body is only equipped to handle appropriate doses of essential oils.
Proper dosing according to labeling recommendations and other professional guidelines should be strictly followed.
Effective Methods of Internal Application
Use oils in recipes for cooking or baking to replace fresh or dried herbs and spices
Remember that essential oils are much more potent than dried or fresh herbs and spices, so start with a very small amount
For more potent oils, it may be better to administer them by toothpicks (dip the end of a clean toothpick into the oil and then add to the food) rather than drops
Add essential oils to water, smoothies, milk, tea, or other drinks
Take essential oils internally in a veggie capsule or add to a small amount of applesauce or yogurt
- 20 Essential Oil Lifestyle Tips
Essential Oil Safety
While there are many essential oil benefits that await anyone who is ready to welcome natural solutions into their life, it is important to have an understanding of how to safely use essential oils before getting started. Whether you are just learning how to use essential oils, or you've been using them for a while, you'll want to make sure that you know all of the safety guidelines so that you can keep yourself and your family safe, while still enjoying all of the wonderful benefits that essential oils have to offer.
For a closer look at some of the best safety tips for essential oils, take a look at this essential oils reference guide.
Dosage
Like anything else that you use for promoting health and wellness, essential oils can be used safely when the proper dosage guidelines are observed. Because essential oils are so potent and powerful, only a small amount of oil will be necessary to achieve the desired effect. It is important to be aware of daily dosage recommendations to ensure that you are protecting your body from being overwhelmed with improper amounts of oil. Below is a breakdown of daily dosage recommendations for essential oils.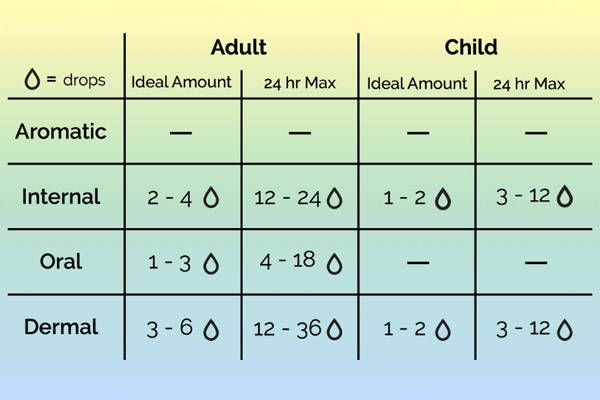 As you can see, because aromatic application is simply the act of breathing in essential oils, there are no limits to the amount of oil drops you can use. On the rest of the chart, "Internal" application refers to swallowing and ingesting essential oils, "Oral" application refers to placing essential oils in the mouth (for cleansing and freshening), and "Dermal" application refers to topical use on the skin.
Purity
The purity of an essential oil is the most important and most difficult to obtain characteristic. An essential oil that isn't pure means you run the risk of putting synthetics, heavy metals, or adulterants onto or into your body, which can provoke irritation, adverse effects, or even sickness. Unfortunately, adulteration and unethical practices are all too common in the essential oil industry.
Due to a lack of accepted standards in the industry, doTERRA created its own testing standard called Certified Pure Therapeutic Grade (CPTG) that certifies the oils are 100% free from fillers, adulterants, synthetic ingredients, or harmful contaminants.
Application
When it comes to applying essential oils, there are three basic application methods—aromatic, topical, and internal. Aromatic application refers to experiencing the aroma of essential oils through the air by inhaling or breathing in the oils, or using an essential oil diffuser. Topical application is the use of essential oils on the skin. Internal use of essential oils refers to ingesting essential oils by swallowing a veggie capsule that contains essential oils, applying essential oils directly into the mouth, or adding oils to a beverage and then swallowing.
Before you start using essential oils, make sure that you have a firm understanding of how to apply them, the appropriate dosages and quantities, and which areas to avoid. For example, when applying essential oils topically, it is wise to avoid application to areas like the eyes, ears, or nose, and to avoid putting essential oils on broken or damaged skin. As mentioned in the dosage section above, before using essential oils internally, it is important to understand how much of an essential oil should be used, and more importantly, which essential oils are approved for internal use (not all essential oils are safe to use internally).
Dilution
When applying essential oils topically, not only is it important to follow the guidelines listed under the "Dermal" section in the chart above, but it will often be necessary to dilute the essential oil so that it is not too powerful for the skin. Because essential oils are so potent and many essential oils have a strong chemistry, sometimes you will need to dilute the oil before applying topically to ensure that you don't experience any sensitivity.
The best way to dilute an essential oil is with something called a carrier oil. Carrier oils are typically a pure vegetable oil that will literally "carry" the oil to the skin. While some worry that using a carrier oil will reduce the benefits of essential oils, it will actually help to increase absorption so that the oil stays on the skin for a longer period of time.
If you are looking for a good carrier oil, consider ordering doTERRA Fractionated Coconut oil. The recommended ratio for dilution is typically three drops of the carrier oil per one drop of essential oil.
Storage
When it comes to using essential oils in the home, one major key to keeping your family safe is proper essential oil storage. For obvious reasons, essential oils should not be left out where small children can reach them, and bottles should always be sealed up with their lids after use.
In addition to keeping essential oils in a safe place, it is important to keep the oils out of direct sunlight and away from heat, as light and heat can alter the chemical structure of the oils and lessen their efficacy. By storing your oils in a cool, dry place, you can preserve the delicate yet powerful properties they possess, allowing you to reap as many essential oil benefits as possible.
Children
Yes, essential oils are safe to use around your family and on children, however, there are a few extra precautions to take when it comes to using essential oils on your little ones. First, as mentioned above, it is important to keep essential oils out of reach of your children. Because kids don't understand the potency of essential oils, they cannot properly apply them, and could use them improperly.
It is also important to note that children have more delicate and sensitive skin than adults, so it is always necessary to dilute oils before applying them topically on your kids. The dosage chart includes child recommendations for internal usage—just keep in mind that the dosages for children will always be much less than that of an adult because they have smaller, more sensitive and developing bodies and require far less oil.
Make sure to teach your children (and even teenagers) to only use essential oils under your supervision, and always set a good example of proper essential oil usage so that your family understands how important safety guidelines are.
Personal Considerations
If you have any specific health conditions or concerns, it is always a good idea to consult your healthcare professional before use. The same goes for your children—if you have any concerns about using essential oils on your children, consider talking to their pediatrician or primary care physician before starting essential oil use with your kids.
It is possible to use essential oils safely in conjunction with healthy eating and exercise in order to promote a healthy lifestyle, but you must consider your own personal health status and any health concerns first. For example, women who are pregnant should always consult with their doctor before using oils.
Essential Oil Quality
Certified Pure Therapeutic Grade Quality Testing
The purity of an essential oil is its most important characteristic. An essential oil that isn't pure means you run the risk of putting germs, heavy metals, or adulterants onto or into your body, which can provoke irritation, adverse effects, or even sickness. Without an accepted standard for essential oil quality, doTERRA created its own testing process, calling it CPTG Certified Pure Therapeutic Grade. The CPTG process certifies that there are no added fillers, synthetic ingredients, or harmful contaminants in their essential oils that would reduce their efficacy. doTERRA even goes a step further, putting all their products and the packaging through a battery of tests to ensure a long and effective shelf-life. This protocol ensures potency, purity, and consistency batch to batch.
Before the CPTG Process Begins
Proper methods of growing, harvesting, and distilling are also crucial to maintaining purity. Poor production practices and the development of synthetic essential oil variations suggest that it is impossible to accurately identify a pure essential oil without scientific analysis. Appropriate analysis of the constituents within an essential oil is one of the most challenging and detailed aspects of quality assurance.
Knowing which of the many different species of a given plant will provide the most profound therapeutic health benefits is the first step in producing the highest quality essential oil. Relying on the expertise of botanists, chemists and wellness practitioners, botanical materials are carefully selected for their natural concentrations of active aromatic compounds.
Nurturing plants in the most favorable environment and carefully harvesting and transporting plant material for processing ensures an optimal yield of pure and potent essential oils. Spanning the continents of the globe, doTERRA's exclusive network of growers and harvesters are experts at cultivating plants specific to the essential oil industry.
The CPTG Process
The CPTG testing begins immediately after distillation with each oil being reviewed for its chemical composition. A second round of testing is carried out at our production facility to ensure that what was distilled and tested is the same essential oil as was received. A third review of the chemistry of the oil is conducted in a three-phase procedure as the oils are packaged into the bottles we use as consumers. Each of these tests confirms that the essential oil is free of contaminants and unexpected alterations during production.
The CPTG Certified Pure Therapeutic Grade quality protocol includes the following tests:
Organoleptic testing
Microbial testing
Gas chromatography
Mass spectrometry
Fourier Transform Infrared spectroscopy (FTIR)
Chirality testing
Isotopic analysis
Heavy metal testing
Historically, gas chromatography was sufficient to identify individual components in an essential oil. However, as more sophisticated methods for developing synthetic essential oil products formed, further validation methods were needed. Over time, additional testing methods such as mass spectroscopy, chiral analysis, FTIR Scan, carbon isotope analysis and others have been developed to more accurately identify each individual essential oil constituent.
Organoleptic Testing
Organoleptic testing involves the use of the human senses— sight, smell, taste, and touch. To expert distillers, the senses are used as the first line of quality testing to provide immediate clues to the acceptability of a product. Oil that has an unusual smell, uneven consistency, or strange color instantly tells the distiller that something is wrong. Often times, this testing is used as a preliminary quality control step before any other tests are conducted.
Microbial Testing
Microbial testing involves analyzing a batch of essential oils for the presence of bio-hazardous microorganisms such as fungi, bacteria, viruses, and mold. The process involves drawing a sample and then adding that sample to a sterile growth medium in an enclosed dish or plate. The sample is incubated for a period of time and then observed for microbial growth. This test is performed on product entering the manufacturing facility and on finished products prior to distribution to ensure that the product has not been contaminated during the filling process.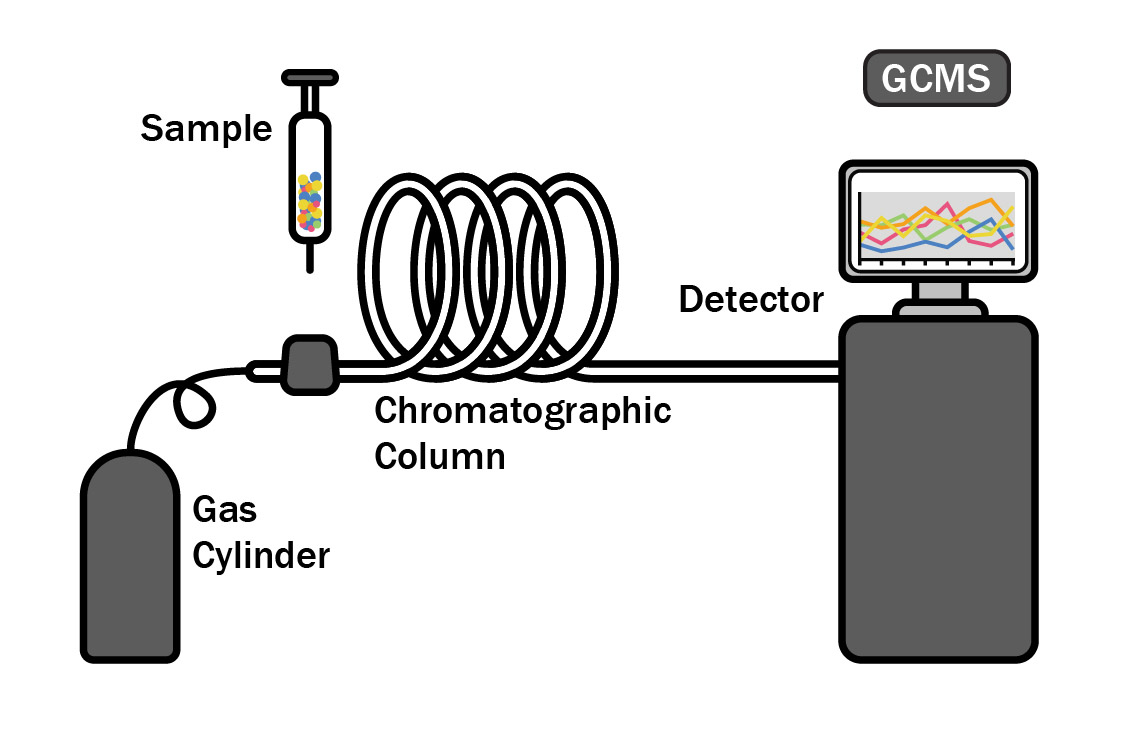 Gas Chromatography and Mass Spectrometry Analysis (GC/MS)
In Gas Chromatography, an essential oil is vaporized and passed through a long column to separate the oil into its individual components. Each component will travel through the column at a different speed, depending on its molecular weight and chemical properties, and is measured as it exits the column.Using this testing method, quality control analysts can determine which compounds are present in a test sample.
Mass Spectrometry is used together with Gas Chromatography to further determine the composition of an essential oil. In Mass Spectrometry, the constituents previously separated by GC are ionized and sent through a series of magnetic fields. Using molecular weight and charge, the amount of each constituent can be identified, providing additional insights into the potency of the essential oil.
Fourier Transform Infrared Spectroscopy
Fourier Transform Infrared Spectroscopy (FTIR) is conducted to ensure the potency and consistent quality of a batch of essential oil. This testing method identifies the structural components of essential oil compounds. In an FTIR scan, infrared light of different frequencies is shined through a sample of essential oil and the amount of light absorbed by the sample is measured. The quality of the sample is determined by comparing the results from an FTIR reading to a historical database with absorption patterns of high quality samples.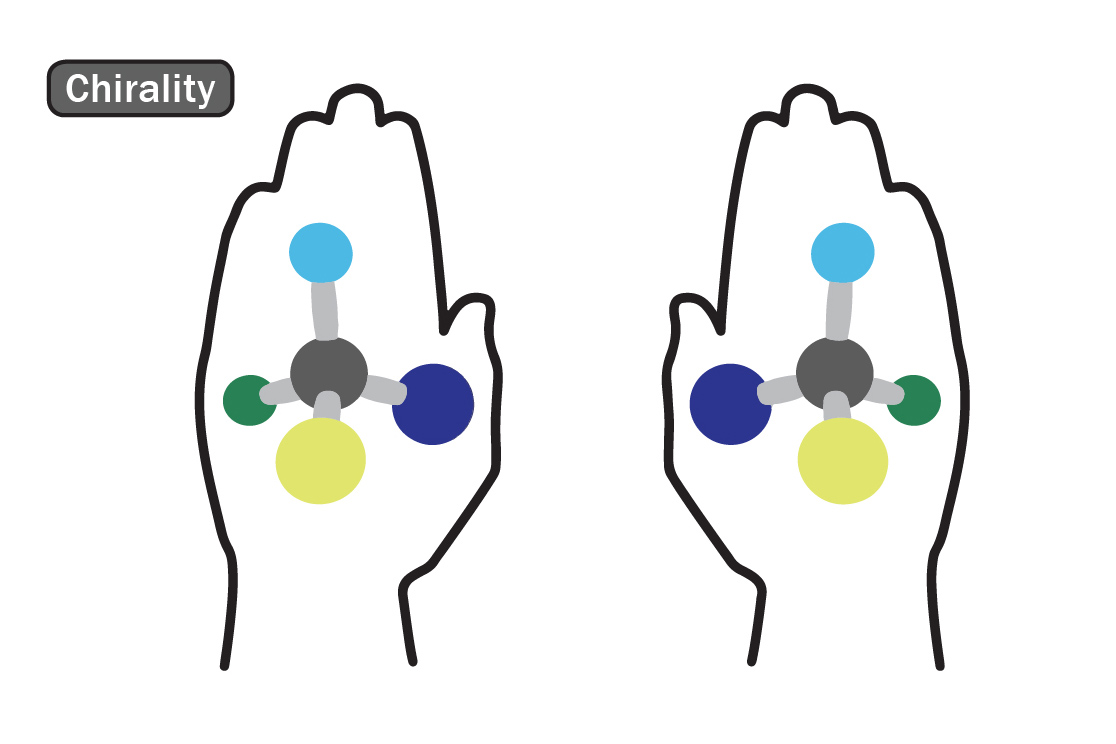 Chirality Testing
Chirality, a word derived from the Greek word "hand," is a term used to describe the 3D orientation of a molecule. Just as you have two hands, chiral molecules exist in two forms, distinguished as either the right or the left hand. You may visualize this principle by looking at your hands; when placed side by side, they are mirror images of each other. However, when placed on top of each other, no matter how you turn them, you cannot get them to line up exactly. In molecules, each "hand" has different chemical properties, which affects their physiologic interactions in the body. One hand is produced predominantly in nature. However, in a laboratory environment, the ratio of right- to left-handed molecules is always 50/50 due to their structural similarities. The ratio of right- to left-handed constituents can be determined through a special type of Gas Chromatography. Although not commonly performed on a batch-to-batch basis, this testing method is used to ensure that no synthetic elements are present.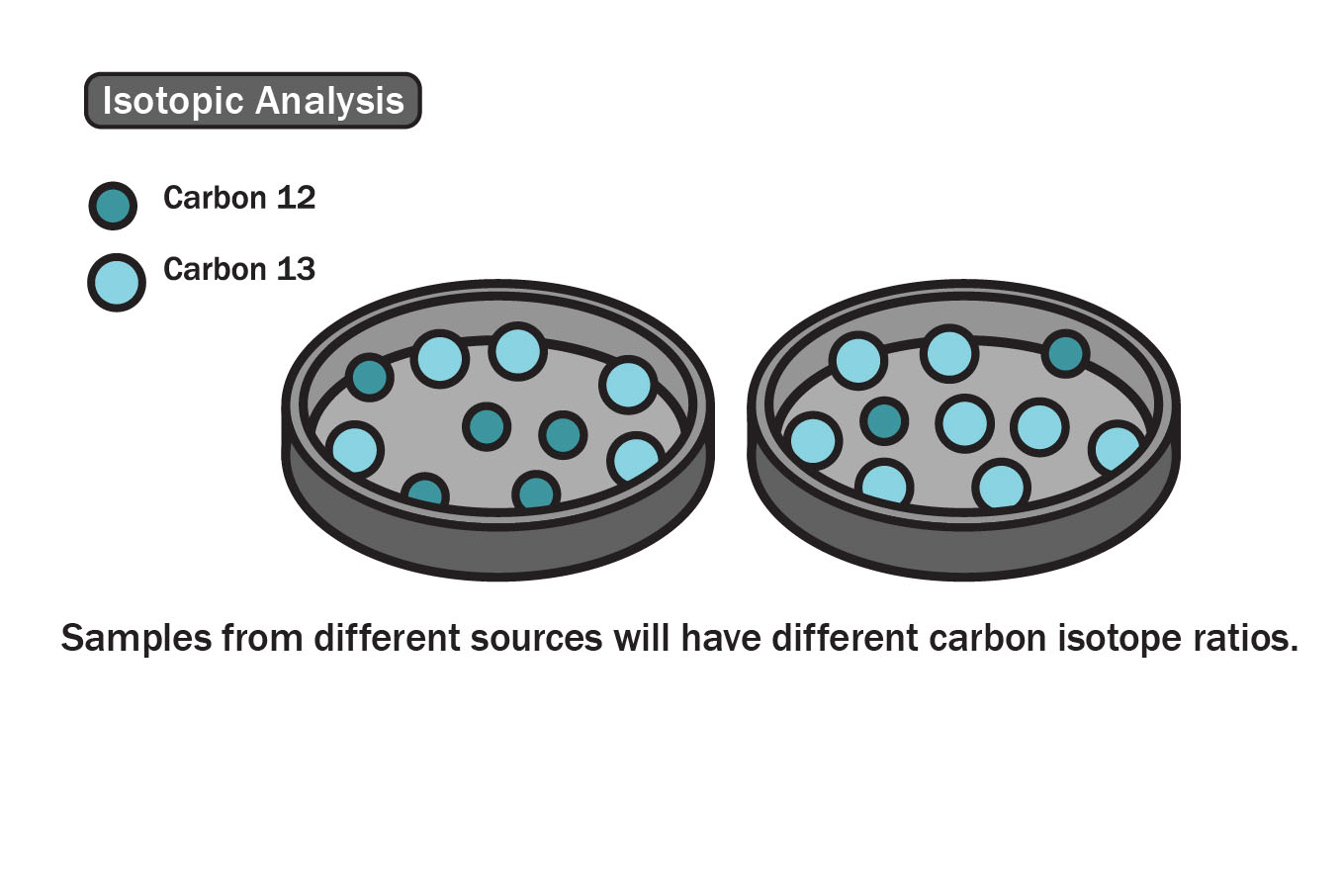 Isotopic Analysis
Matter is made up of tiny chemical building blocks called elements. Although dozens of elements exist, each one is distinct due to the protons it contains. Sometimes, an element can exist in more than one stable form if it has more or less neutrons. When this occurs, the elements are called isotopes. The element carbon exists in two stable isotopes, carbon-12 (6 protons and 6 neutrons) and carbon-13 (6 protons and 7 neutrons). Because essential oils are organic compounds, they are composed primarily of carbon atoms and will have a certain ratio of carbon-12 to carbon-13 isotopes. This ratio varies based on location around the world.
Using a special type of Mass Spectroscopy, it is possibleto determine which isotopes are present in an essential oil constituent and at what amounts. If sourced from the same location, every constituent in an essential oil should have the same ratio of isotopes. If a particular constituent has an isotopic profile different than that of the other constituents, then the quality control analyst will know that the oil contains an adulteration.
Heavy Metal Testing
Heavy Metal testing shows the amount of heavy metal content in the essential oil. When properly distilled, essential oils should not contain heavy metals. ICP-MS testing uses a high-energy medium called Inductively Coupled Plasma (ICP) to ionize the sample. The sample is then run through a mass spectroscope, which separates the sample into its elemental parts and provides a reading about which elements are present and at what quantities.
Reliable Sources on Essential Oil Research
Introduction
Since 1950, over 120,000 scientific research articles have been published on essential oils and their chemical constituents. But only recently have scientists realized the potential applications of essential oils to healthcare. Consequently, the last two decades have witnessed an explosion in essential oil research. Three quarters of all of the studies ever published on essential oils were published after the year 2000.
Despite this explosion of scientific research, essential oils have not yet become integrated into clinical healthcare. This is partly because much of the research, while promising, is still experimental, and essential oils for now are considered alternative and complementary solutions. Also, the essential oil industry is limited in how it explains the benefits of essential oils since they are not registered as drugs.
Because of these limitations, many essential oil users and healthcare practitioners have shown increasing interest in doing personal research to help them understand the properties of essential oils. Unfortunately, there are many sources on the web containing information that is either misleading, false, or at best ill-supported by scientific findings. At doTERRA, we encourage the use of scientific research to validate the proper use of essential oils. We have put together a list of reliable sources that you can use to educate yourself on the biological activity of essential oils.
Essential Oils for Beginners
New to essential oils? Here is a simple guide to help you get started in your essential oil journey.
Start With the Basics
Lemon
Properties: Cleansing, revitalizing, uplifting
Add to a spray bottle of water to clean tables, countertops, and other surfaces.
Use to remove gum, glue, or any other sticky residues.
Add to your favorite desserts or beverages for zesty flavor.
Take internally to support healthy digestion.
Diffuse to purify air and create an uplifting, refreshing aromatic experience.
Lavender
Properties: Soothing, calming
Diffuse or add a few drops to your pillow or feet to prepare for a restful night's sleep.
Apply topically to help reduce the appearance of blemishes.
Add a few drops to a warm bath to help soak away stress.
Consume 1–2 drops to help calm the nervous system.
Peppermint
Properties: Cooling, energizing, natural bug repellent
Take internally to help alleviate occasional stomach upset.
Apply a few drops to the back of your neck to cool off.
For a clearing, refreshing aroma, diffuse at night by your bedside.
Rub on head and neck for a soothing sensation when feeling tense.
Add to shampoo or conditioner for a stimulating scalp massage.
Frankincense
Properties: Renewing, beautifying, rejuvenating, grounding
Take internally to support healthy cellular and immune function.
Apply topically to help reduce the appearance of skin imperfections.
Diffuse during meditation for a sense of relaxation and balance.
Melaleuca (Tea Tree)
Properties: Soothing, cleansing
Combine 1–2 drops with your facial cleanser or moisturizer for added cleansing properties, or apply to skin after shaving.
Apply to fingernails and toenails to keep nails looking clean and healthy.
Use as an effective surface cleaner. Add a few drops to shampoo or massage into the scalp.
Add to toothpaste or swish with water for a quick and easy mouth rinse.
doTERRA Breathe Respiratory Blend
Apply topically to the chest to breathe deeply.
For a clearing aroma, diffuse at night by your bedside.
Apply diluted to your upper lip and inhale to invigorate and clear your senses.
Apply topically for an invigorating lift when you stay home from the office on a cold, rainy day.
Apply on feet and knees before and after exercise.
Make your muscles happy after your workout by applying to targeted areas.
Massage on your lower back after a day of sitting at the desk or doing manual labor.
Take a couple of drops internally to promote healthy digestion.
Add to water or tea and consume to help maintain a healthy gastrointestinal tract.
Reduce bloating, gas, and indigestion.
doTERRA On Guard Protective Blend
Add two to three drops in a Veggie Capsule or take directly for an immune boost before traveling or during seasonal changes.
Diffuse in your home or office during fall and winter months.
Add to water and use as a natural surface cleaner.
Basic Terminology
Essential Oils 
Natural aromatic compounds extracted from seeds, bark, stems, roots, flowers, and other parts of plants. Essential oils contain natural and unique properties that can have powerful benefits on your health and overall wellness.
CPTG (Certified Pure Therapeutic Grade)
doTERRA quality protocol in which each batch of oil undergoes a multi-phase chemical composition inspection.
Carrier Oil
A lipid-based substance used to dilute essential oils. doTERRA Fractionated Coconut Oil is an excellent carrier oil option because of its long shelf-life and light, non-greasy texture.
Distillation 
The process of extracting essential oil from plant material.
Cold Press Distillation/Expression 
Most commonly used method for obtaining citrus oils. This process uses a mechanical press to squeeze essential oils from plant parts.
Steam Distillation 
The most common distillation method. This process uses low-heat pressurized steam to circulate through plant parts and extract oils.
METHODS OF USE
Aromatic
Essential oils that can be used aromatically. Diffusion is one of the most popular ways to enjoy the aromatic benefits of essential oils.
Topical
Essential oils that can be used topically, which means you can apply them directly on the skin or mix them with carrier oils or other personal care products.
Internal
Essential oils that can be used internally. You can add oils to beverages, take them in doTERRA Veggie Caps, take doTERRA essential oils supplements, or use them in your favorite recipes.
SKIN SENSITIVITY
Dilute
A category of essential oils that should be mixed with a carrier oil. The carrier oil will help "carry" the essential oils onto the skin.
Neat
A category of essential oils that can be applied topically without dilution because of their extremely mild chemistry.
Sensitive
A category of essential oils that should be diluted for young or sensitive skin.
Essential Oils for Beginners eBook