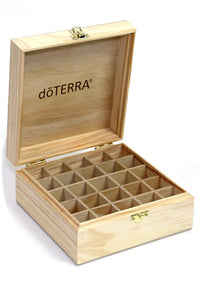 doTERRA Logo Engraved Wooden Box
Organize and store your essential oils in this doTERRA logo engraved wooden box.
Description
Custom-made to hold 25 essential oils, the logo engraved wooden box is lightweight and compact, making it easy to transport your oils wherever you go. It also serves as a beautiful display case for your oils when making presentations. Box Dimensions: 6 ½ x 6 ½ x 3 inches. Fit 5 ml and 15 ml essential oil bottles.
* These statements have not been evaluated by the Food and Drug Administration. This product is not intended to diagnose, treat, cure, or prevent any disease.
---
We Also Recommend