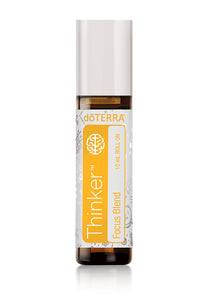 doTERRA Kids Thinker Blend Roll-on
When it's time to get creative and focus, roll Thinker onto the back of your neck to support your mind and enhance learning.
Description
Ideal for everyone and for daily use, Thinker Focus Blend is the optimal support to use when distractions are high. Designed to create a sense of alertness and clarity, Thinker is the perfect go-to when it's time to pay attention and concentrate. Featuring Vetiver, Peppermint, Clementine, and Rosemary perfectly combined with Fractionated Coconut Oil for sensitive skin, Thinker is a natural way to feel more focused. Roll Thinker onto your temples, wrists, and the back of your neck to help bring a sense of clarity to the situation at hand. Embracing the uplifting benefits of Clementine, Thinker can help with mental energy while promoting a stronger sense of concentration. Herbal and slightly sweet, the unique aroma helps instill feelings of clarity during times of confusion. To create a supportive and positive environment for enhanced creativity and focus, incorporate Thinker into your daily learning practice.
Primary Benefits
Helps prevent mental distraction
Instills a sense of alertness and focus
Helps reduce feelings of mental stress
Ingredients
Vetiver, Peppermint, Clementine, and Rosemary in a base of Fractionated Coconut Oil
Uses
Keep Thinker on hand in your purse or child's backpack and apply in the afternoon to remain on task.
Roll onto wrists or hands and inhale deeply to promote a sense of clarity and alertness.
Uplifting to the mood, use Thinker when experiencing feelings of sadness or stress.
Promote learning and support creativity by applying Thinker throughout study time.
Directions for Use
Aromatic Use: Roll on to diffusing jewelry, natural dolomite, or lava diffusing rocks.
Topical Use: Apply to desired area.
* These statements have not been evaluated by the Food and Drug Administration. This product is not intended to diagnose, treat, cure, or prevent any disease.
---
We Also Recommend