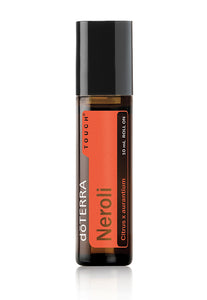 doTERRA Neroli Touch Roll-on
Soothing to the skin, doTERRA Neroli Touch is specially formulated with Fractionated Coconut Oil to provide a positive, calming experience when applied topically.
Description
Neroli essential oil is derived from the flowers of the bitterorange tree; in fact, there are three oils derived from this same tree—orange is derived from the orange peels,Petitgrain from the leaves and twigs, and Neroli from the flower. Much research has been conducted regarding the aroma of Neroli essential oil. According to research, Neroli instills relaxation, uplifts mood, reduces feelings of anxiousness, and promotes overall well-being. Applied topically, Neroli can be used to soothe skin and reduce the appearance of blemishes.
Primary Benefits
Promotes a positive mood
May help reduce feelings of anxiousness
Soothes skin
Encourages relaxation
Uses
Apply topically to help soothe the skin.
Combine Neroli, Lavender, Ylang Ylang, and Marjoram essential oils for a relaxing and aromatic massage experience.
Apply to pulse points throughout the day to uplift mood.
Use when experiencing anxious feelings.
Directions for Use
Topical use: Apply one to two drops to desired area.
* These statements have not been evaluated by the Food and Drug Administration. This product is not intended to diagnose, treat, cure, or prevent any disease.
---
We Also Recommend