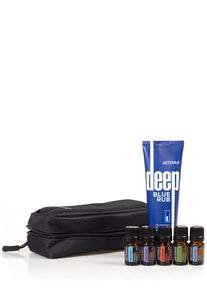 doTERRA Athlete Kit
The perfect companion to a healthy lifestyle, the doTERRA Athlete's kit can help support healthy athletic activity, while counteracting the taxing effects of exercise on the body.
Description
Whether in competitive arenas or a local gym, activity is a cornerstone of health. As anyone who has ever donned workout shoes will tell you, athletic activity can tax your body. The doTERRA Athlete's Kit was designed with athletes in mind, and is perfect for supporting healthy lifestyles from competitive to health-minded. The kit includes key products for those with an athletic lifestyle:
doTERRA Breathe
doTERRA On Guard
Lavender

Tea Tree

 

(Melaleuca)
Peppermint
Deep Blue Rub
Presented in a compact, reusable zippered pouch. With the Athlete's Kit, you can enjoy implementing athleticism in your life.
Primary Benefits
doTERRA Breathe

 

Respiratory Blend: Used by a variety of individuals seeking to minimize the effects of seasonal threats
doTERRA On Guard

 

Protective Blend: Assists athletes with the protection against environmental threats necessary to keep up with an active lifestyle
Lavender: Used for its calming and relaxing qualities. Applied to soothe the skin
Melaleuca: Can be used for a variety of athletic needs for its cleansing and rejuvenating effect on the skin
Peppermint: Promotes a boost when feeling fatigued or low on energy
Deep Blue

 

Rub: Massage Deep Blue into lower back after an energizing day.
Concept
doTERRA partners with athletic facilities to provide elite athletes with the beneficial properties of essential oils. This same kit is now available to all sports enthusiasts and athletes. Packaged in a convenient carrying case for use wherever your activities take you, this kit is geared toward active individuals who are new to the benefits of essential oils and doTERRA.
Essential oil bottles are of size 5ml.
SAVE when you purchase as a collection. Save even more when you Join & Save 25%.
* These statements have not been evaluated by the Food and Drug Administration. This product is not intended to diagnose, treat, cure, or prevent any disease.
---
We Also Recommend