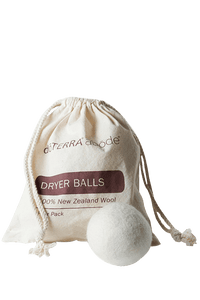 doTERRA Abōde Dryer Balls
Abōde Dryer Balls soften your clothes, reduce wrinkles, shorten drying time, and leave fabrics smelling great.
Description
These 100% New Zealand wool balls replace your dryer sheets and are safe for use with all fabrics. Place one to four drops of your favorite CPTG® essential oil onto the wool dryer balls and toss two to four dryer balls with laundry in the dryer. Once done, remove and reuse the dryer balls again and again. The abōde Dryer Balls come in a cotton bag for easy storage.
Primary Benefits
Softens fibers
Reduces fabric wrinkles
Shortens drying time
Leaves your fabrics soft and smelling fabulous
Instructions
Place two to four drops of favorite CPTG essential oil onto the wool dryer balls. Toss two to four balls in the dryer with each laundry load.
* These statements have not been evaluated by the Food and Drug Administration. This product is not intended to diagnose, treat, cure, or prevent any disease.
---
We Also Recommend