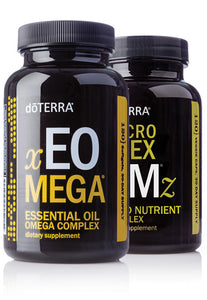 doTERRA Daily Nutrient Pack
Made with SLS-free vegetable capsules.
Ready to fill daily nutrient deficiencies, doTERRA Daily Nutrient Pack contains Microplex VMz and xEO Mega dietary supplements which combine together to support the body's natural functions and provide essentials nutrients.
Similar products:
Description
The doTERRA Daily Nutrient Pack packages the essential nutrition of Microplex VMz and xEO Mega together in a convenient pack at a reduced price. Daily Nutrient Pack is a great choice on a path toward optimal health, energy, and longevity.
As one of doTERRA's most popular products, doTERRA Lifelong Vitality Pack is full of essential nutrients, metabolism benefits, and powerful antioxidants designed to help promote energy, health, and lifelong vitality.
Save $44 when you purchase bottles as a pack.
Primary Benefits
General wellness and vitality
Antioxidant and DNA protection
Energy metabolism
Bone health
Immune function
Stress management
Cardiovascular health
Healthy hair, skin, and nails
Eye, brain, nervous system
Liver function and digestive health
Lung and respiratory health
Gentle on stomach
Does not contain genetically modified material, dairy-free
Pack Contains
Directions for Use
Take four capsules of each xEO Mega and Microplex VMz per day with food.
Microplex VMz Ingredients
xEO Mega Ingredients
* These statements have not been evaluated by the Food and Drug Administration. This product is not intended to diagnose, treat, cure, or prevent any disease.
---
We Also Recommend