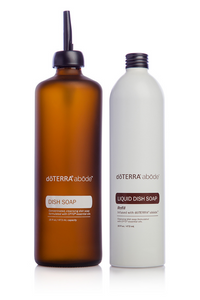 doTERRA Abōde Dish Soap with Dispenser
Save money and time when purchasing the doTERRA Abōde dish soap dispenser and soap together.
Description
doTERRA abode home product line contains powerful essential oils with a pleasant aroma that leaves your home smelling clean and feeling refreshed naturally.
doTERRA Abōde Dish Soap Dispenser
Convenient and easy to fill, the chore of doing dishes is a little easier when you use this durable, reusable bottle created expressly for dōTERRA abōde Dish Soap. doTERRA makes it simple for you to reduce the use of plastic in your household, save money, and keep your home clean. Made for the conscious consumer, abode delivers efficacy, sustainability, and aesthetic value . . . naturally. No compromises.

doTERRA Abōde Dish Soap
The perfect addition to any bathroom or kitchen, doTERRA® abode™ Foaming Hand Wash Concentrate Infused with Citrus Bloom® essential oil blend gently cleanses hands without drying skin. 
Directions For Use
Fill the Abode Dish Soap refillable dispenser to the indicated line. Use to wash dishes after scraping off food. Rinse soap off thoroughly.
* These statements have not been evaluated by the Food and Drug Administration. This product is not intended to diagnose, treat, cure, or prevent any disease.
---
We Also Recommend