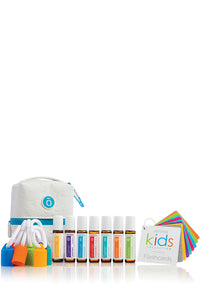 doTERRA Kid's Roll-on Blends Collection
A unique collection of essential oil blends formulated with little ones in mind. Now with ten loops, add more of your favorite roll-ons into your Kids Collection bag.
Updated! with the new Tamer Digestive Blend, flashcard, plus new and improved silicone toppers.
Description
Whether you are an experienced practitioner or new to essential oils, the doTERRA Kids Collection is the complete and ready-made "whole body" essential oil toolbox designed to empower caregivers to confidently care for the health and wellness of little ones. Formulated specifically for developing minds, bodies, and emotions, these essential oil blends feature unique combinations therapeutically balanced to provide powerful benefits while being gentle on delicate skin.
Contains:
* These statements have not been evaluated by the Food and Drug Administration. This product is not intended to diagnose, treat, cure, or prevent any disease.
---
We Also Recommend