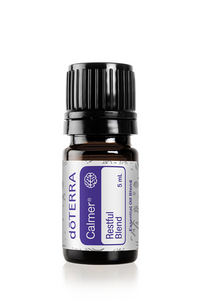 doTERRA Kids Calmer Blend
When a day's been long and hard and you're looking for peaceful serenity or a new calming aroma, doTERRA Calmer is the ideal relaxing aroma to diffuse or apply topically.
Description
Calmer Restful Blend promotes a serene atmosphere, allowing bedtime to be a peaceful and welcomed experience. Combining the soothing properties of Lavender, Cananga, Buddha Wood, and Roman Chamomile essential oils, Calmer can be used as part of your nightly ritual. Cananga and Buddha Wood essential oils, unique to Calmer, create a  restful atmosphere. When it's time to restore your mind and body diffuse Calmer to
help create feelings of relaxation.
Primary Benefits
Helps create a restful atmosphere at bedtime
Cananga and Buddha Wood essential oils help create a calming aroma
Relaxing, soothing and positive aromatic blend
How to Use
Use this undiluted version of dōTERRA Calmer Restful Blend for your next DIY
Mix with doTERRA Hand and Body lotion and use as part of a hand massage or to enjoy the serene aroma all day
Diffuse in your doTERRA diffuser of choice for a restful aroma
Try adding a few drops in the shower for the soothing aromas
Add 1-2 drops to your wrists and pulse points and inhale for a relaxing aroma - add carrier oil for sensitive skin
Apply to bottoms of feet before a restful night's sleep.
doTERRA Calmer can be a part of your everyday bedtime routine
Aromatic Description
Sweet, floral, soft woody
Ingredients
Lavender, Cananga, Buddha Wood, and Roman Chamomile essential oils
Directions for Use
Aromatic: Add 3-8 drops in your diffuser
Topical: Dilute with carrier oil to apply to skin
* These statements have not been evaluated by the Food and Drug Administration. This product is not intended to diagnose, treat, cure, or prevent any disease.
---
We Also Recommend