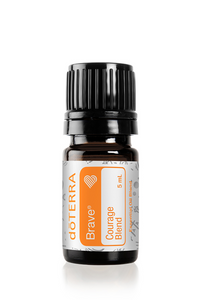 doTERRA Kids Brave Blend
Specially crafted for the well-being of your kiddos, begin each day with confidence. dōTERRA Brave 5mL is undiluted so you can easily diffuse and use in a variety of ways.
Description
dōTERRA Begin each day with confidence and belief by pairing Brave Courage Blend with your positive affirmation practice. Allow yourself to reset when experiencing feelings of doubt and stress by diffusing Brave to help invoke feelings of confidence. Wild Orange, Amyris, Osmanthus, and Cinnamon Bark, Brave is essential to your day. With a bright and warm aroma, Brave is the perfect blend when you're feeling unmotivated.
Featuring the unique essential oil from Amyris Wood, Brave can help create a calm environment. Before tackling life's big (or small) moments, diffuse Brave with thoughts of courage and positivity and with the reassurance that you can accomplish anything.
Primary Benefits
Energizing and invigorating to the senses
Comfortably use doTERRA Brave Courage Blend throughout the day to help encourage tranquility
Ideal for use in conjunction with positive affirmations
Helps promote a confident and courageous atmosphere
How to Use
Use this undiluted version of dōTERRA Brave Courage Blend for your next DIY
Mix with doTERRA Hand and Body lotion and apply to enjoy the aroma all day long
Diffuse in your doTERRA diffuser of choice for a positive aroma
Try adding a few drops in the shower for a energizing scent as you begin your day with confidence
Add 1-2 drops to your wrists and pulse points and inhale for bright and warm aroma
Try doTERRA Brave before new or different situations when looking for an atmosphere of courage
Aromatic Description
Warm citrus, floral, faintly spicy
Ingredients
Wild Orange, Amyris, Osmanthus, and Cinnamon essential oils
Directions for Use
Aromatic: Add 3-8 drops in your diffuser
Topical: Dilute with carrier oil to apply to skin
* These statements have not been evaluated by the Food and Drug Administration. This product is not intended to diagnose, treat, cure, or prevent any disease.
---
We Also Recommend