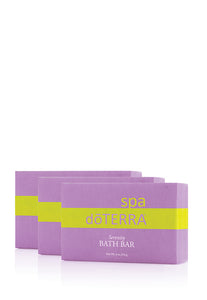 doTERRA Serenity Bath Bar - 3 Pack
The doTERRA SPA Serenity Bath Bar is a one-of-a-kind bar that provides a unique feel, lather, aroma and cleansing experience. Infused with the exclusive CPTG Serenity Restful Blend. Save when you purchase as a pack.
Description
The doTERRA SPA Serenity Bath Bar is a one-of-a-kind bar that provides a unique feel, lather, aroma, and cleansing experience. Unlike regular soaps with harsh surfactants, this natural bath bar leaves skin feeling clean, smooth, and soft. From the first use, you'll notice this bar is distinctly different from any bar or soap you've used before. It has a gentle foaming action that glides across the skin with ease, thoroughly cleansing while moisturizing with jojoba seed oil, vegetable-derived glycerin, and aloe vera juice. Infused with the calming and relaxing aroma of our doTERRA Serenity Restful Blend, this bath bar will transport you to a state of blissful repose. Enjoy a rich, cleansing, aromatic spa experience with doTERRA's natural, truly original bath bar.
Primary Benefits
doTERRA Serenity essential oil blend promotes relaxation and a restful sleeping environment
Jojoba seed oil is highly regarded in the cosmetic industry and known for its quick absorption and ability to deeply moisturize
Vegetable-derived glycerin hydrates skin and helps retain moisture while providing a smooth application of gentle suds
Aloe leaf juice is purifying, moisturizing, soothing, and softening to the skin
Natural kaolin clay gives the bar a beautiful lavender hue
Directions for Use
Add water to bring bath bar to a rich lather. Use in the shower, bath, or at the sink. To make bar last longer, keep dry between uses. Store at room temperature. Avoid excessive heat.
Each bath bar comes in a 4 oz./ 113 g size
SAVE when you purchase as a pack. Save even more when you Join & Save 25%.
* These statements have not been evaluated by the Food and Drug Administration. This product is not intended to diagnose, treat, cure, or prevent any disease.
---
We Also Recommend