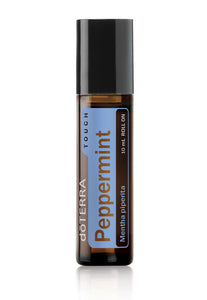 doTERRA Peppermint Touch Roll-on
doTERRA Touch Peppermint can be used anytime, anywhere for a quick energy boost and to experience its cleansing, cooling aroma.
Description
doTERRA Peppermint Touch contains Peppermint essential oil and Fractionated Coconut Oil to provide a multitude of benefits. Its minty, fresh scent can be used aromatically and topically throughout the day to uplift mood and promote a sense of focus. Peppermint essential oil is known to lessen feelings of tension when applied to the temples or the back of the neck. doTERRA Peppermint Touch can be applied to these areas and anywhere on the body to provide a cooling massage or to naturally deter insects.
Primary Benefits
Helps lessen feelings of tension
Uplifts mood and promotes a sense of focus
Naturally deters insects
Uses
Rub on temples when studying or when waking for a refreshing morning boost.
Massage oil onto back of neck for a cooling sensation and to relieve feelings of tension.
Use with Lavender and Frankincense for a soothing massage.
Apply before attending outdoor events.
Directions for Use
Topical Use:
Apply to desired area.
* These statements have not been evaluated by the Food and Drug Administration. This product is not intended to diagnose, treat, cure, or prevent any disease.
---
We Also Recommend