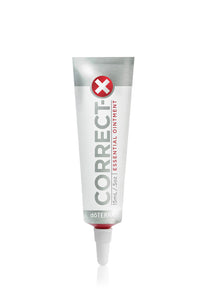 doTERRA Correct-X
doTERRA Correct-X is a multi-purpose, natural ointment that helps soothe skin and enhance the natural process of skin returning to a healthy state after being distressed.
Description
Frankincense, Helichrysum, Melaleuca, Cedarwood, and Lavender—all CPTG Certified Pure Therapeutic Gradeessential oils known to help assist in soothing skin irritations—are used in dōTERRA Correct-X. This multi-purpose, natural ointment helps soothe skin and keep it clean while recovering from distress. Correct-X provides a moisture barrier that helps protect while simultaneously soothing and hydrating the skin. This petroleum-free, preservative-free ointment absorbs quickly and is gentle and non-irritating, making it ideal for sensitive skin.
Primary Benefits
Frankincense, Helichrysum, Melaleuca, Cedarwood, and Lavender soothe and purify skin
Bisabolol is known for its calming effects and ability to promote healthy-looking skin
Similar to the natural oils found in skin, Jojoba provides optimal hydration, helping to improve the texture of skin
Phellodendron Amurense Bark extract is used to condition the skin
Directions for Use
Apply to affected areas as needed.
* These statements have not been evaluated by the Food and Drug Administration. This product is not intended to diagnose, treat, cure, or prevent any disease.
Love this Correct X
This salve works wonders!
---
We Also Recommend