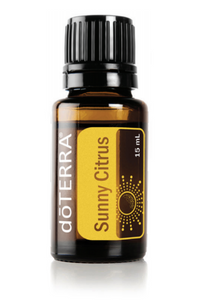 doTERRA Sunny Citrus Blend
Description
There's nothing better than a holiday spent lying on a beautiful, warm, sun-drenched beach in the tropics. Uniting the bright aromas of the most popular citrus oils, Grapefruit and Wild Orange with the zing of Peppermint, dōTERRA captures the essence of the perfect vacation with the proprietary CPTG® essential oil blend, Sunny Citrus. An inspiring reminder of optimism, happiness, and hope, limonene-rich Sunny Citrus is the perfect aromatic complement to your happy and active lifestyle. Diffuse throughout the day to create a bright and elevating ambiance. Sunny Citrus also increases the power of any household cleaning product while it leaves a tantalizing, fresh aroma in your home.
Primary Benefits
Energizing and refreshing aroma
Helps create a bright environment
Boosts power of household cleaners
Uses
Diffuse to freshen any area.
Add to household cleaning products for a cleansing boost.
Directions for Use
Diffusion: Use 3-4 drops in a diffuser.
Topical use: Apply one to two drops to desired area. May dilute with doTERRA Fractionated Coconut Oil to minimize any skin sensitivity.
Ingredients
Grapefruit, Wild Orange, and Peppermint essential oils
Aromatic Description
Minty, sweet, fresh, citrus
* These statements have not been evaluated by the Food and Drug Administration. This product is not intended to diagnose, treat, cure, or prevent any disease.
---
We Also Recommend